Infrastructure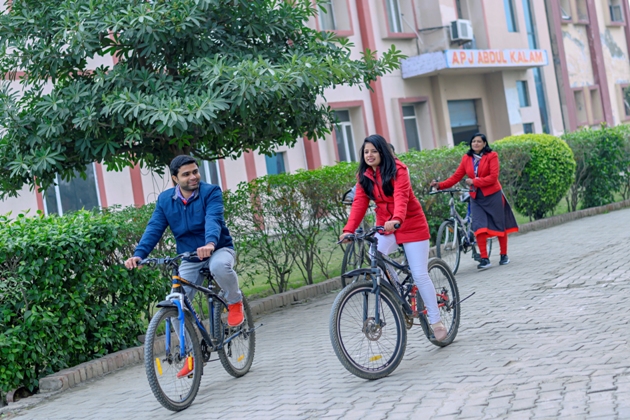 IITM Group of Institutions creates an environment that opens up new worlds of opportunities for graduate and undergraduate students. At IITM Group of Institutions, a wide range of academic facilities are provided to the students to assist them at every stage of their course. The campus has spacious and well-illuminated classrooms including libraries, laboratories, seminar hall, auditorium, cafeteria, herbal garden, and animal house facility. Life at IITM Group of Institutions isn't only all work no play but the campus life extends beyond the classroom life which gives the student a whole new world of culture, special interests and sports. Sports and cultural activities are an essential part of the curriculum as the process will make or students mentally strong enabling them to face the problems in day to day life thus enhancing their personality traits.
IITM campus offers you the best of both world's city and suburb. The institution campus is a diverse, sociable community, where imagination thrives and ambitions are realized. The group is committed to providing a positive learning environment free from any form of discrimination, harassment and bullying, where all students are treated with respect and dignity. We aim to ensure that all students have equal access to the full range of institutional facilities. Life at IITM Group offers you plenty to do, see, explore and experience while pursuing your studies.
LABORATORIES
The campus is well-equipped with laboratories including Technical Labs, Nursing foundation lab, Community Health Nursing Lab, Science lab and Computer Laboratory with all the upgraded instruments for practical exposure.
CLASSROOM
IITM Group of Institutions possess well-furnished and state of the art equipped classrooms. Spacious, well- furnished and lecture halls provide the most conducive environment for dynamic and focused discussions.
WIFI CAMPUS CONNECTIVITY
The institute has a 24X7 Wi-Fi facility in the college campus for the student and faculty members to avail internet connection at any place in the college, hostel & faculty houses. The connectivity through a fully networked campus with state-of-the-art IT infrastructure, computing & communication resources, offers students the facilities of e-mail, net surfing, up/downloading of web-based application, besides helping them in preparing projects & seminars.
Apart from the computer laboratories setup for syllabus programs the Institutes have provided state-of-the-art computer labs for general purposes and learning during extra hours. This includes Internet Facilities available through leased line and Wi-Fi for providing continuous and uninterrupted internet connectivity to students and faculty members. These facilities are also available to students beyond college hours for preparation of seminars & projects and research-orientated work. The entire campus including the hostels is Wi-Fi enabled and students can access the internet on their laptops round the clock.
LIBRARY
The library is the milestone of the education system at the IITM Group of Institutions. The mission of our library services is to facilitate the acquiring of new knowledge through acquisition, organization, and dissemination of knowledge resources. The library offers a wide range of materials in a variety of formats—from traditional books and serials to films, and multimedia and networked information from around the world.
Highly skilled staff assists students to use the local collections and find information on specific topics. Our library is a learning space where students are inspired to explore research and create. Our libraries are not only the places to think but also an informal work area where students gather to collaborate. Our Learning Resource Centre has a total collection of over more than 20,000 books covering all disciplines of Science, Engineering, Technology, Management, and Pharmacy. Furthermore, the students have access to more than 30 printed journals, 50 print national magazines, and 100 online international magazines apart from daily newspapers.
The library is kept open from 09:00 AM TO 5:00 PM for all the students of the institute.
MESS FACILITIES
The hostelers residing at our campus are provided with mess facilities within their hostel accommodation. We take special care for hygiene and sanitation while preparing the meals. The monthly subscription has been kept low to provide access to healthy food for students from every sphere.
HOSTEL INFRASTRUCTURE
At IITM Group of Institutions, you will be among the many students coming from all across the country to live in IITM Residence, which comes closest to be a home away from home. We ensure that the students feel at home, with the best comfort.
SPORTS FACILITIES
Taking part is fun, but winning really rocks. Sure, IITM's young athletes love what they do. At IITM, to encourage Sportsman spirit among our students, we encourage each student to compulsorily choose at least one game. Our Students had participated at Inter-College and University Competitions and they are preparing for National Level too.
SEMINAR HALL
IITM Group has a well-furnished adequately spacious and magnificent Seminar Hall with a sitting capacity of 60 students at a time. The Hall is well equipped with all facilities like a projector, audio-visual, aids and amplifiers, etc. The college keeps on inviting from time to time renowned academicians and intellectuals in different spheres for addressing the students and the teaching staff on various subjects, topics of academic and other co-related pursuits with a view to widening the horizon of knowledge of the students and the staff as well. Competitive programmes in different academic spheres are also organized to give exposure to their talents, potentialities and overall development of the students.
LUSH GREEN GARDEN CAMPUS
A day at IITM GOI is an entirely different experience altogether. The picturesque site and blossoming green environment make the campus, free from pollution. The campus is spread over 13 acres of lush green land that has more than 2,500 trees. The campus is also easily reached by public transportation. We have a well-ventilated institution structure with safe and hygienic indoors and outdoors.
CANTEEN
The canteen is such an important part of any college campus that you won't be going too far to say that they are as significant as the classrooms or the auditorium. The canteen is the place where friendships start and hostilities end. Time spent at the canteen gives rise to ideas for assignments, projects, and well, late-night parties and vacations. There is no way such an important place can be taken lightly and it is for the same reason that colleges across India make sure that their canteen serves the food for the students.
BANKING FACILITY
IITM Group of Institutions has tie-up with Nationalized Banks. This allows the opening and operation of accounts for every student through checkbook or debit cards. The bank is operating its own ATM machine and with an extension counter near the campus.
SECURITY
"Helping You Stay Safe"
The whole IITM Group of Institutions Campus including academic area, administration building, and hostels complex is fully covered by the security round the clock.
Safety is an important aspect of any institutional campus to provide a safe and secure environment for students, staff, and visitors and ensure that institute is an enjoyable place to study, work, and visit.
24/7 security control room
Regular security patrols
Help and assistance during an incident
Liaison with the police and other emergency services
Campus security
Traffic control and car parking
Lost and found property
Security at events
Emergency planning and management