Transportation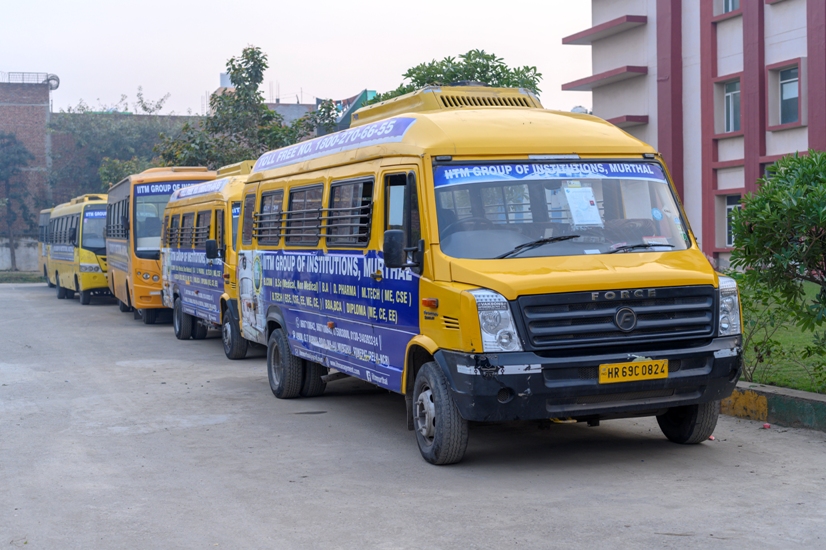 Transportation Facilities
Catering to a large number of day-scholars, the institution runs a fleet of buses and Vans for the convenience of its students and faculty. Students are charged a subsidized transportation fee for this facility. The buses cover several routes in Sonepat and Delhi NCR. Institutions place a high premium on the safety, hygiene and punctuality of its transport system.
Each bus has been equipped with a first aid box and fire extinguisher. Constant communication is maintained with the teacher on board for security purposes. IITM group of institutions provides excellent transportation services to the students from Delhi, Sonepat and various locations of NCR to IITM, Murthal.
In addition, IITM has a fleet of cars and vans for backup transport. When some students are required to stay back late for training, workshops, extracurricular activities, or organizational activities, the institution ensures that their transportation is taken care of by this fleet.
Routes & Stops
S. No.
Sonepat
Rohini
Uttam Nagar
Route-Delhi-Cantt
Route-Narela
Route-Shahadra Delhi
1
KAKROI ROAD SEC.23 SONEPAT
Pitampura
DABRI MOD
DWARKA SEC.10
NANGLOI
Bihar Colony Welcome
2
SEC.23 SONEPAT
Sarshwati Vihar Pitampura
STOP
UTTAM NAGAR
MEERA BAGH
Mojpur Metro
3
TIKARAM CHOCK
MANGOL PURI
Delhi Cantt.( Sadar Bajar )
UTTAM NAGAR(VIKASH PURI)
PEERAGARHI
Shahadra
4
KATH MANDI SONIPAT
SECTOR 1 ROHINI
SHALIMAR VILLAGE
RAJOURI GARDEN
BUDH VIHAR
Yamuna Vihar
5
BAYAPUR
DIPALI CHOWK ROHINI
SHALIMAR BAGH
INDERLOK
PEHLADPUR ROHINI
YAMUNA VIHAR
6
ITI CHOCK SONIPAT
SECT.7
Ashok Vihar Jai Mata Market
INDERLOK
Krishan Vihar KANJHAWALA Road
C - BLOCK YAMUNA VIHAR
7
Aanand Cenima
ROHINI SECT.7
Max Height G.T Road Bad Khalsha
Shastri Nagar Metro Station
Auchandi Bawana Road
Bhajanpura
8
OLD DC ROAD GURU DHAWARA ROAD
VISHRAM CHOK
Biswa Mile
KANAHIYA NAGAR
HOLAMIKALAN
Khajuri
9
OLD DC ROAD GURU DHAWARA ROAD
RAJEEV GHANDHI HOSPITAL ROHINI
KESHAV PURAM
NARELA
Majnu Tilla
10
OLD HOUSING BOARD COLONY NEAR SABAJI MANDI
ROHINI SECT.11
ADARSH NAGAR
TDI CITY
Timarpur
11
G3S SEC.11 ROHINI
MUKADHPUR RED LIGHT
RAI G.T.ROAD
Gandhi Vihar Wazirabad
12
Rohini Sec15
MUKADHPUR RED LIGHT
MEERA BAGH
WAZIRABAD
13
ROHINI SECTOR 16
KARNAL BYE PASS
Wazirabad
14
ROHINI SECTOR 17
DWARKA MOD
BURARI
15
SIRASH PUR NEAR ROHINI SECTOR 17
BURARI
16
HAIDERPUR BADLI
BURARI
17
HAIDERPUR
Burari
18
BUKARBA CHOWK
Santnagar
19
SARUP NAGAR
NATHUPURA
20
LIBASPUR
Nathupura
21
LIBASPUR
Bakhtawarpur
22
NANGLIPOONA
23
ALIPUR ( Guru Dawara Road )
24
Bakoli G.T.Road
25
Singhu
26
NATHUPUR
27
Rai
Regular Haryana Roadways State Transport buses also connect the Campus to various points.
For any details please contact

Mr. Pawan Sharma
In charge
+91-92157-80790