Godrej Centre of Excellence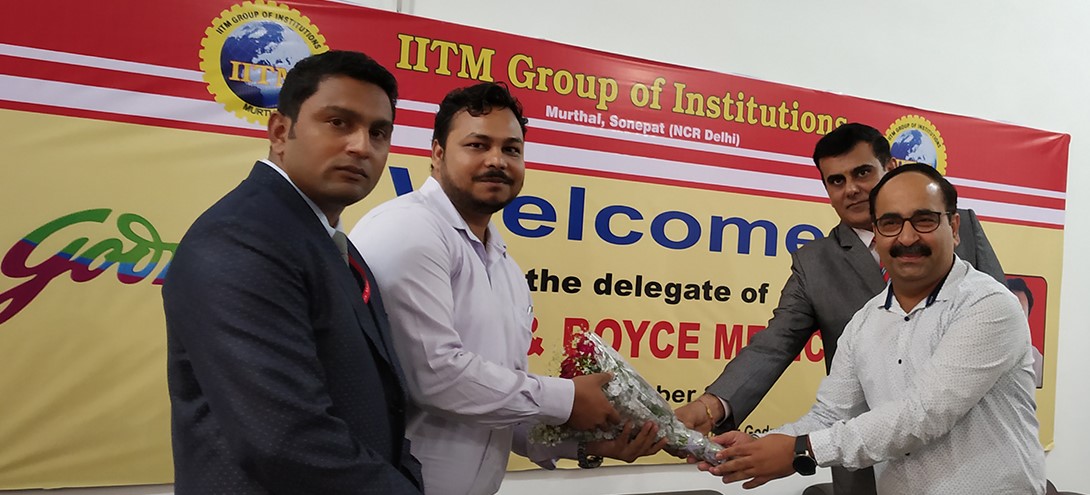 IITM Group of Institution - Godrej Centre of Excellence
With an aim to equip youths in the suburban and rural areas, with skills which will enhance their employability / generate self-employment, IITM Group of Institutions have join hands with Godrej & Boyce, in setting up Centre of Excellence, to impart training in "Servicing of Home appliances – Refrigerators, Air conditioners, Washing Machine, Microwave Oven, etc.".
In 2010 Godrej Group decided to adopt an overarching CSR and sustainability strategy called 'Good and Green.' In this frame of reference, the 'Good' refers to the activities that Godrej will undertake to identify and satisfy the needs of the population which has been underserved, hither to. The 'Green' refers to the activities that will conserve and foster greener India. It is through the adaptation of this framework that the Godrej Group will strive to create systematically shared value whereby it will engage in policies and practices that will enhance the competitiveness of the company while simultaneously advancing economic and social conditions in the communities in which it operates.
Godrej Group, as a part of Godrej Disha (Ensuring Employability) has ambitious plans of training 1 million rural and urban youth in skilled employment by 2020. Godrej & Boyce, a holding company of Godrej Group has a sizable share to train.
IITM Group of Institutions jointly with Godrej & Boyce has setup the first Centre Of Excellence in Haryana in the IITM Group premises at Murthal.
Courses of various durations are being conducted in the Centre of Excellence as detailed below:
Course: 15 Days Certificate Course
Contents:
1. Basic Refrigeration and Air-conditioning
2. Refrigeration Repairs
3. Air-conditioning Repairs
4. Basics in Washing Machine and Microwave
5. Basic Home appliance training. (Includes Electric iron, hotplate, geyser, mixer grinder)
Course: 1 Month advance course
Contents:
1. Advanced refrigeration and air conditioning
2. Advance Washing and Microwave
Course: 3 Months Advance Course
Contents:
1. Advance Home Appliances Training
Students with educational qualification of 8th standard, 10th standard, 12th standard, ITI, Diploma & B. Tech can choose appropriate course and enhance their employability skill / aim for self-employment. This is a unique and rare initiative and the courses are offered at nominal fees. On completion of the courses, certificates will be issued by IITM Group of Institutions in association with Godrej Disha.
You are requested to kindly disseminate the information about the courses to all your students and alumni to enable them to derive maximum benefit from the same.
For More Details, Contact:
Ravi Pratap Singh
Training and Placement Officer cum Coordinator- Godrej Centre of Excellence
IITM Group of Institutions
Murthal, Sonepat (Delhi-NCR)
Contact: +91-8699626529
Email Id: ravipratapsingh.official@gmail.com